Tereré among the most refreshing beverages in the world
The renowned publishing house RBA, which publishes prestigious magazines such as National Geographic, mentions tereré as one of the most refreshing beverages in the world.
An average of 3 million people browse the magazine's website every month.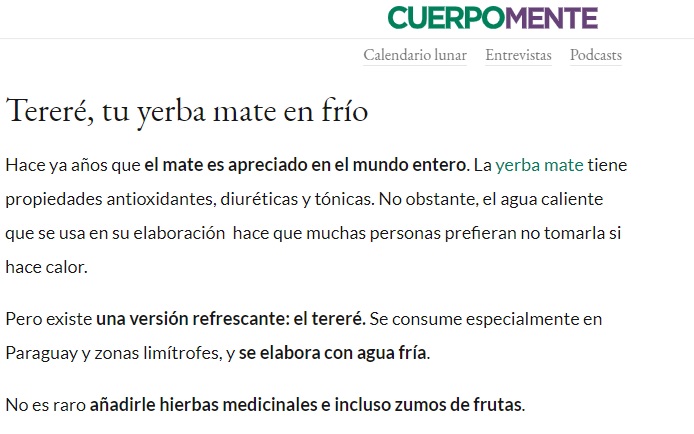 As quoted in the article: "From Turkey to Mexico via Paraguay or Huelva, the heat and thirst have made human ingenuity create healthy ways to cool down"
Options for cooling off

"To cool off we can resort to refreshing recipes for traditional drinks and cold soups from different parts of the world where they know what the heat is and how to fight against it".

They hydrate themselves with their liquids and at the same time nourish you and give you vitality. You can drink them all!, adds the article.
Tereré on the list
"The Mate has been appreciated all over the world for years. Yerba Mate has antioxidant, diuretic and tonic properties. However, the hot water used in its preparation means that many people prefer not to drink it in hot weather".

"But there is a refreshing version: tereré. It is consumed especially in Paraguay and neighbouring areas, and is made with cold water. It is not uncommon to add medicinal herbs and even fruit juices". concludes the article.

The RBA group's magazines are sold in 50 countries and in 12 languages.
Photo: www.cuerpomente.com
Comments
Leave us your comment